Masaru Nakamura, President
| | |
| --- | --- |
| Company | Qol Co., Ltd. |
| Security Code | 3034 |
| Exchange | Tokyo Stock Exchange, First Section |
| Industry | Retail Industry (Commerce) |
| President | Masaru Nakamura |
| Headquarter Address | Toranomon 4-3-1, Shiroyama Trust Tower 37F, Minato-ku, Tokyo |
| Business Description | Qol Group is a major pharmacy operator with its network of stores centered on the greater Tokyo area but also developed nationwide. |
| Year-end | March |
| URL | |
Share Price
Shares Outstanding
Market Cap.
ROE (actual)
Trading Unit
¥1,431
34,470,400 shares
¥49,327 billion
18.2%
100 shares
DPS (Est.)
Dividend Yield (Est.)
EPS (Est.)
PER (Est.)
BPS (Actual)
PBR (Actual)
¥24.00
1.7%
¥107.52
13.3x
¥604.49
2.4x
*Stock price as of the close on June 6, 2016. Number of shares outstanding as of most recent quarter end does not include treasury shares.
| | | | | | | |
| --- | --- | --- | --- | --- | --- | --- |
| Fiscal Year | Sales | Operating Income | Ordinary Income | Net Income | EPS(¥) | DPS (¥) |
| FY 3/13 | 76,783 | 2,812 | 2,829 | 1,349 | 52.76 | 20.00 |
| FY 3/14 | 100,966 | 2,105 | 2,208 | 777 | 25.11 | 18.00 |
| FY 3/15 | 114,363 | 4,243 | 4,262 | 2,155 | 63.33 | 20.00 |
| FY 3/16 | 124,957 | 6,709 | 6,655 | 3,641 | 105.81 | 24.00 |
| FY 3/17 Est. | 138,000 | 6,800 | 6,800 | 3,700 | 107.52 | 24.00 |
* Estimates are those of the Company. From the current fiscal year, the definition for net income has been changed to net income attributable to parent company shareholders (Abbreviated as Parent Company Net Income).
* 2 for 1 stock splits were conducted in September 2009 and October 2011, and a 100 for 1 stock split in April 2012.
* EPS and dividend figures have been adjusted to reflect the stock splits.
* A commemorative dividend of ¥10 per share was paid in fiscal year March 2012 to celebrate the listing on the TSE Second Section.
* A commemorative dividend of ¥2 per share was paid in fiscal year March 2013 to celebrate the moving of Qol's listing to the TSE First Section.

This Bridge Report provides a review of Qol Co., Ltd.'s earnings results for fiscal year March 2016.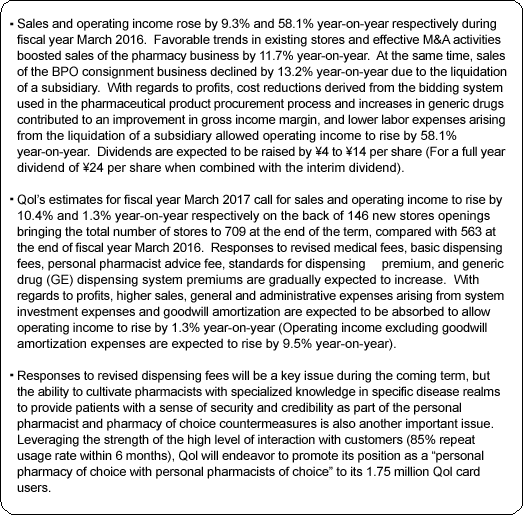 Qol is Japan's third largest company in the dispensing pharmacy industry with nationwide operations with the bulk of its stores in the Tokyo and surrounding regions. Traditionally, dispensing pharmacies have been located adjacent or close to large hospitals, and been engaged in fierce competition to capture customers. However, Qol maintains close communications with medical institutions to ensure success in its new store opening strategy. In recent years, the Company has pursued partnerships with companies outside of the pharmacy industry to open stores in areas not necessarily close to hospitals, but have well established foot traffic of potential customers. Some of these partnerships include capital and business alliance with LAWSON, Inc. to create "hybrid facilities that combine dispensing pharmacies with convenience stores" in suburban regions, a partnership with Bic Camera Inc. for pharmacies to be opened in subterranean sections of train stations, and business alliance with West Japan Railway Company Group to open "Station Qol Pharmacies" within trains stations. In addition, the CSO and clinical trial support services are provided as part of the BPO consignment business through the intermediary holding company Qol SD Holdings, which acts as an intermediary holding company.

Corporate Philosophy: We seek to improve the "Quality Of Life" of all people, anytime and anywhere.
Corporate History

October 1992
Masaru Nakamura (Current President) founded Qol at the age of 50 after working as a marketing division manager at a pharmaceutical product wholesale company, opening the first store in Nihonbashi-Kabutocho, Tokyo.
April 2006
Listed its shares on the "Hercules" section (Currently the JASDAQ Market) of the Osaka Securities Exchange
December 2008
Formed collaborative agreement with LAWSON
June 2010
First hybrid pharmacy and convenience store was opened (Shiroyama Trust Tower, Minato Ward, Tokyo)
December 2011
Listed shares on the Second Section of the Tokyo Stock Exchange
August 2012
Business alliance formed with West Japan Railway Company Daily Service Net
August 2012
Formed capital alliance with LAWSON
October 2012
APO PLUS STATION Co., Ltd. turned into a subsidiary
December 2012
Listed shares on the First Section of the Tokyo Stock Exchange
April 2013
Qol SD Holdings Co., Ltd. established as an intermediary holding company to oversee and manage the related businesses through a corporate split (Newly established split)
July 2014
Formed business alliance with Cocokara fine Inc.

Business Description

Qol's reported business segments are divided into two segments: of the pharmacy business, which accounted for 92.3% of fiscal year March 2016 sales, the BPO contracting businesses, in which the CSO and clinical trial support services are provided by the group companies under management of Qol SD Holdings. The dispensing pharmacies operations is the primary service within the pharmacy business, along with pharmacies operated jointly with convenience stores (CVS) (Operated in conjunction with LAWSON) with a portion of sales derived from the sale of products.

Meanwhile, Qol SD Holdings oversees and manages the BPO consignment business segment which includes the CSO and pharmacist dispatch services conducted by APO PLUS STATION Co., Ltd. clinical trial support service performed by Qol RD Co., Ltd., and publishing related services provided by Medical Qol Co., Ltd. The dispatch of MRs is a response designed to reduce pharmaceutical company costs (Through reductions in having to hire full time MRs).

Pharmacy Business

QOL Pharmacies

Because of the long-standing habit of "purchasing prescription drugs at pharmacies located close to hospitals", customers generally sought to get their prescriptions filled at pharmacies located close to hospitals. Therefore, dispensing pharmacies had sought to open stores in front of or close to major hospitals. Despite this trend, Qol will continue its strategy of maintaining close one-on-one relations with numerous medical institutions (Strong and credible relations with physicians at prescribing medical institutions) to maintain its reputation as a pharmacy with detailed person-to-person services while also promoting operation of pharmacies close to hospitals. At the same time, Qol will also promote a store development strategy that focuses on the opening of pharmacies that fulfill the need to fill prescriptions issued by multiple medical institutions.
While Qol operates the bulk of its pharmacies close or adjacent to hospitals, the number of pharmacies located in other situations not close to hospitals is on the rise. Also, the focus of its new pharmacy openings is centered in the Tokyo and surrounding regions (Approximately 50% of all new pharmacy openings), efforts will be made to expand the number of pharmacies that do not depend upon close proximity to hospitals for business by leveraging the 1.75 million member Qol Card network, prescription transmission applications and other information technologies, and to achieve a stable rate of new customer business rate of about 8% per month.

Increase Collaboration with Other Industries as Part of Strengthened Non-Adjacent Pharmacy Strategy: "Cover Wide Range of the Market"

From 2010 onwards, Qol has focused upon developing diversified sales channels through cooperation with partners in differing industries. As part of this strategy, Qol has promoted a new pharmacy opening strategy in various locations including hybrid pharmacies jointly operated with LAWSON convenience stores (From April 2014, a shift has been made to opening hybrid stores that fuse the traditional dispensing pharmacies, convenience stores, and drug stores to form health care stores), station front pharmacies, pharmacies located within Bic Camera stores which boast of high customer foot traffic, and pharmacies within West Japan Railway Company railway stations. Because over 20% of patients actively choose the dispensing pharmacies they frequent, Qol seeks to acquire orders for filling of prescribed medicines by broadening the types of pharmacies it operates and as part of its differentiation strategy to capture patients. In the future, home delivery services are also being considered for not only pharmaceutical products, but also for nursing care products and prepared foods.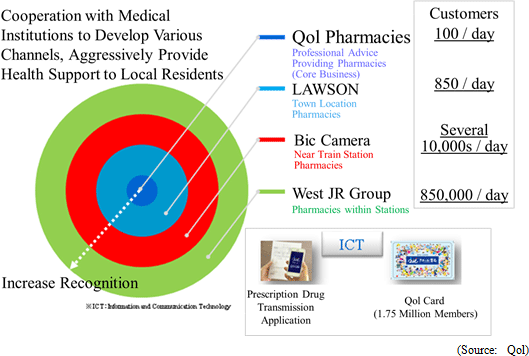 Distribution Reforms

In March 2014, the Pharmaceutical Product Sourcing Organization operated by 16 different drug store and pharmacy companies was established to enable competitive bidding on pharmaceutical product purchases. The Pharmaceutical Product Sourcing Organization has divided pharmaceutical products into five categories, and three categories among which, namely additional new drug discovery, patented products, and long term listed products, announcement will be made to member companies the anticipated pricing in addition to conducting general bidding for these products. As for other categories including off-patent drugs and essential drugs (The minimum drugs required by national health insurance systems), negotiations for each product are conducted individually as in the past. Because Qol had conducted bulk purchases of pharmaceutical products until now, they have only been able to get limited discounts on their purchases. But from fiscal year March 2015, this bidding system conducted by the organization and subsequent appropriate and fair pricing has contributed to improvements in profitability.

In the past, the pharmaceutical product purchasing price negotiations conducted during the fourth quarter (January to March) of each year have had a profound impact upon Qol's full year earnings. Compared with the strong influence of negotiated pricing upon earnings during fiscal years March 2013 and 2014, the introduction of the competitive bidding system to stock goods only after determining purchasing prices for pharmaceutical products, which is an attempt to return to more original commercial practice, allowed for relatively stable earnings during fiscal year March 2015.

BPO Consignment Business

In order to survive, pharmaceutical companies have adopted a selection and concentration strategy for its businesses. Therefore, specialization in original drugs and downsizing the sales volume of long-listed products has been promoted. In addition, efforts to reduce sales, general and administrative expenses (Reductions in fixed costs, shift to variable costs) are being conducted, and reductions in labor force including Manufacturer Medical Representatives (MRs) and development staff are being undertaken. At the same time, usage of Contract Sales Organizations (CSOs) and Contract Research Organizations (CROs) is increasing (Reflecting a shift from fixed to variable costs in the form of outsourcing). In response to these pharmaceutical company trends, APO PLUS STATION Co., Ltd., a subsidiary of the Qol SD Holdings Group, provides services that respond to this "switch from in-house MRs to use of CSOs" (Contract MRs).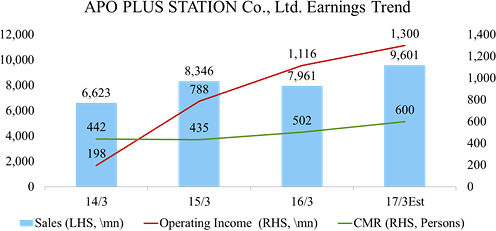 Fiscal Year March 2016 Earnings Results

Sales, Operating Income Rose 9.3%, 58.1% Year-On-Year

Sales rose by 9.3% year-on-year to ¥124.957 billion due in part to an 11.7% year-on-year increase in sales to ¥115.308 billion derived from M&A activities and favorable trends in existing pharmacy store trends, which helped to offset a 13.2% year-on-year decline in BPO consignment business sales to ¥9.649 billion arising from the sale of a subsidiary. Operating income rose by 58.1% year-on-year to ¥6.709 billion on the back of cost reductions derived from the bidding system for pharmaceutical product procurement and a 1.2% point year-on-year increase in gross income margin arising from increased sales of generic drugs. Another contributing factor was the sale of a subsidiary, which allowed labor expenses to fall and the rise in sales, general and administrative expenses to be limited to only 3.2% year-on-year. Capital investments, depreciation and amortization of goodwill of ¥1.927, ¥1.607 and ¥1.569 billion were booked (Compared with ¥1.752, ¥1.611 and ¥1.497 billion in the previous term) respectively. Yearend dividend payment is expected to be raised by ¥4 per share to ¥14 (Bringing total dividend in the full year to ¥24 including the interim dividend payment for a ¥4 increase from the previous term).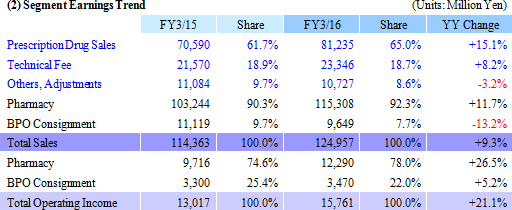 Pharmacy Business

Sales and operating income rose by 11.7% and 51.2% year-on-year to ¥115.308 and ¥6.678 billion respectively. A rise in the number of existing stores contributed to an increase in existing store sales of 19.0% year-on-year to ¥6.206 billion and sales derived from M&A rose by 13.4% year-on-year to ¥7.594 billion. On the other hand, a drop in the number of newly opened stores contributed to a decline in sales of ¥1.380 billion. The number of prescriptions filled rose by 6.6% year-on-year to 10,182,000, and the average prescription price rose by 6.4% or ¥619 year-on-year to ¥10,270 due in part to an increase in Hepatitis C treatments. With regards to profits, reductions in the procurement cost of pharmaceutical products, increases in sales of generic drugs, control of labor costs, and closure of 20 unprofitable stores led to an improvement in profitability. The switch ratio to generic drugs rose by 3.9% points to 64.4% at the term end from 60.5% at the previous term end.

The total number of pharmacies in operation rose by 25 from the end of the previous term to 563 at the end of the current term (32 of these were hybrid stores with LAWSON). While 45 new pharmacies were opened (34 through M&A, 10 Qol, and 1 LAWSON), 20 were closed (12 retail sales, 6 hybrid stores with LAWSON, and 2 Qol). In addition, 21 of Qol's pharmacies have been equipped with clean rooms, with another 220 being facilitated with home care functions. Home care related sales rose by 15.0% year-on-year to ¥2.3 billion (Home care facilities, residences = 64.1%, 35.9%), and the number of home care orders rose by 7.4% to 220,000.

Sales of hybrid stores with LAWSON rose by 6.1% year-on-year (Convenience store sales and pharmacy related sales rose by 5.7% and 8.9% respectively). The dispensing pharmacy division turned to profits on a monthly basis, and also saw 2.7% and 6.3% year-on-year increases in the number of prescriptions filled and the average price of prescriptions respectively. The number of pharmacies operated within Bic Camera stores totaled 4, the number of medical institutions from which business was received rose by 8.1% year-on-year to 10,500, and the average prescription price rose by 4.5% year-on-year. Thanks to the support of Bic Camera, Qol's efforts to establish non-adjacent to hospital pharmacies have been successful. The number of stores opened within West Japan Railway train stations totaled three stores (The 4th store to be opened in JR Tarumi Station at the end of the term), and the number of prescriptions filled and average prescription price rose by 67.9% and 10.6% year-on-year respectively. In addition to drug stores located adjacent to hospitals, Qol benefited from the aggressive support of health fairs and West JR Group. The number of medical institutions serviced by the pharmacy located within Osaka Station exceeded 2,600 and other pharmacies have exceeded 1,000.

BPO Consignment Business

Sales declined by 13.2% year-on-year to ¥9.649 billion, but operating income rose by 38.5% year-on-year to ¥1.000 billion. This decline in sales is attributed to the sale of a subsidiary, and the large increase in operating income is attributed to the retreat from the unprofitable business segments of APO PLUS STATION Co., Ltd.


An expansion in business and the issuance of convertible bonds with stock options allowed net assets to rise by ¥10.348 billion from the end of the previous fiscal year to ¥69.921 billion at the end of the current term. ¥10.0 billion was raised by the issuance of bonds with stock options on October 27, 2015. The funds raised from this issuance will be used for M&A related activities within the dispensing pharmacy business over three years, opening of new Qol pharmacies, renovation of existing facilities, and repayment of debt. Capital adequacy ratio declined from 32.1% at the end of the previous term to 29.8% at the end of the current term.

While taxes increased from ¥1.138 to ¥1.985 billion, the net inflow of operating cash flow remained nearly in line with the previous term. Free cash flow increased from ¥2.775 to ¥4.191 billion.
Fiscal Year March 2017 Earnings Estimates
(1) Qol's New Structure: Change of President

Qol has continued to open new stores and promote M&A activities to expand the scale of its pharmacy business, and to provide stable medical support services since its founding in 1992. Qol has also endeavored to continually improve its corporate value and achieve continued growth by strengthening its management structure to be able to respond to changes in the dispensing pharmacy industry environment. And as part of this strategy, Qol has chosen to appoint a new President. Resolutions will be submitted to both the 24th Annual General Shareholders' Meeting in June and the board of directors' meeting to be held immediately thereafter to appoint the current President Masaru Nakamura to the position of Chairman and CEO, and the current Vice President Takashi Nakamura to the position of President and COO.

Sales and Operating Income Expected to Rise by 10.4% and 1.3% Year-On-Year

Qol's estimates call for sales to rise by 10.4% year-on-year to ¥138.0 billion on the back of a total of 146 new store opening including 10 new Qol pharmacies, 8 new LAWSON hybrid pharmacies, and 128 new pharmacies from M&A activities, which will bring the total number of pharmacies to 709 at the end of the term including 40 LAWSON hybrid pharmacies (563 total and 32 LAWSON hybrid pharmacies at the end of the previous term). In addition to promotion of revisions to medical fees, basic dispensing fees, personal pharmacist advice fee, standards for dispensing premium, and GE dispensing system premiums are expected to gradually increase.

With regards to profitability, investments in systems, goodwill amortization, and overall sales, general and administrative expenses are expected to rise, but the contribution from a 16.5% year-on-year increase in profits from APO PLUS STATION Co., Ltd. is expected to allow operating income to rise only marginally by 1.3% year-on-year to ¥6.8 billion (Operating income would rise by 9.5% year-on-year to ¥9.065 billion after goodwill amortization is added back).

Capital investments and depreciation are expected to rise from ¥1.927 and ¥1.607 billion in the term just ended to ¥3.301 and ¥1.763 billion respectively in the coming term. Amortization is also expected to rise from ¥1.569 to ¥2.265 billion over the same period.

Dividends of ¥12 per share are expected to be paid at both the end of the first half and the full year for a full year dividend of ¥24 per share.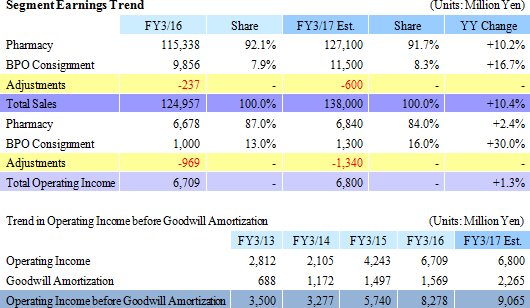 (3) Efforts by Business Segment

Pharmacy Business

The 2016 revisions of dispensing fees has led to a shift in focus to "personal advice" regarding the taking of medicines to increase the reputation of Qol as a personal pharmacy of choice with credible pharmacists from the previous focus upon filling of prescriptions. At the same time, the revisions point to an increasingly difficult operating environment for large pharmacies adjacent to hospitals. In addition, reviews of facilities standards for GE dispensing system premiums have been made more strict. Consequent to these revisions, the ratio of basic dispensing fees, standards for dispensing premium, and GE dispensing system premiums as of May 2016 has changed as shown below.

With regards to basic dispensing fees, Qol is endeavoring to raise pharmacies that receive 20 or 25 points to pharmacies that receive 41 points. With regards to standards for dispensing premium, Qol will also aggressively pursue assisted home care responses by opening pharmacies that can provide services of 45 hours per week and implement privacy measures to raise the ratio of high premium pharmacies. In addition, strengths of personal pharmacies, which boast of a high 85% repeat customer ratio, and 1.75 million Qol Card members will be leveraged in its personal pharmacies to cultivate "personal pharmacy advice fees." GE dispensing system premiums are expected to expand as the new standard is expected to be achieved during the first half.

BPO Consignment Business

Qol is cultivating the overseas, OMR (medical representatives for OTC), and health and beauty (H&B) divisions as new businesses. The overseas division is based out of Thailand to provide support to Japanese pharmaceutical companies seeking to enter that market. The OMR division will provide solutions to various issues in the contract sales organization (CSO) business, and the H&B division will provide subcontracted marketing of healthcare and beauty supplement products to hospitals and pharmacies.

Overseas Division

The new investment promotion strategy of the Thailand Board of Investments will be used to establish the APO PLUS Thailand Co., Ltd. in July 2016. This new company will provide various support for companies seeking to export and import healthcare products to and from Thailand and for Japanese pharmaceutical companies seeking to enter the Thai market.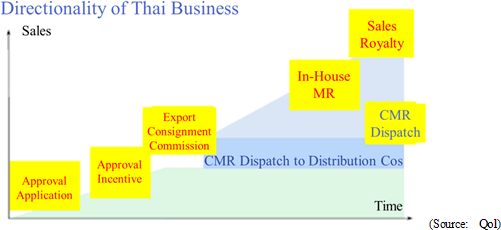 OMR (Medical Representatives for OTC) Division

The bulk of contract medical representatives (CMR) are assigned for a period of two years, and undergo temporary periods of idle time between projects. The OMR division is a unique service that utilizes these idled CMRs to be put to work in other applications to provide benefits for all the three parties of pharmaceutical companies, drug stores, and APO PLUS STATION Co., Ltd.

H&B (Health and Beauty) Division

The national policy calling for reductions in medical expenses (Pointing to increased usage of supplements and other preventative medicine) can be expected to act as a tailwind for the BPO consignment business and an opportunity for Qol to leverage the strengths of is subsidiary APO PLUS STATION Co., Ltd , which is staffed with highly skilled medical representatives who deal with pharmaceuticals.
While responses to the revised dispensing fees are an important issue, cultivating the reputation of Qol pharmacies as the personal pharmacies of choice by raising their credibility amongst patients seeking prescription drugs is another important issue. Consequently, Qol will leverage its strengths of its 1.75 million Qol Card member network and personal service (Leads to a high repeat customer usage rate of 85% within six months) to become the personal pharmacy of choice. Customers over 65 years of age account for 48% of standards for dispensing system premium, with favorable increases in home care orders of 7.4% year-on-year during fiscal year March 2016 and home care sales of 15.0% year-on-year.

In addition, efforts to strengthen the profit generating structure through implementation of logistics reforms with the help of the Yamato Group (One of Japan's major logistics companies) to improve the highly difficult process of inventory management for generic drugs, and to expand Qol's business through both organic growth and M&A to achieve its medium to long term sales target of ¥300.0 billion will be implemented. Moreover, Qol will promote a holding company group structure as part of its indirect cost reductions strategy.
Reference: Corporate Governance

◎ Corporate Governance Report

Qol has submitted a Corporate Governance Report on December 18, 2015 after the Corporate Governance Code came into effect, and has implemented all of the basic principles of the Corporate Governance Code.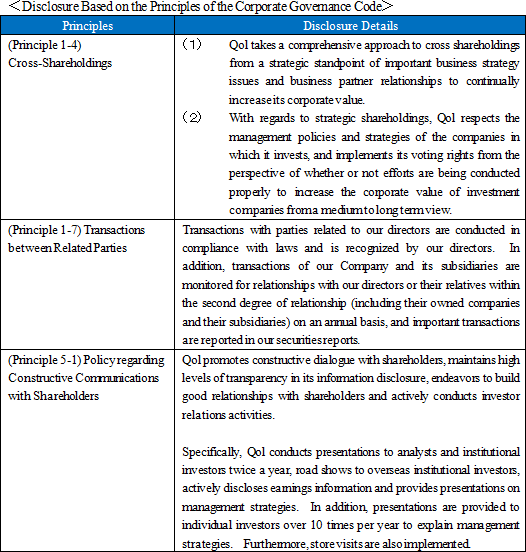 Disclaimer
This report is intended solely for the purpose of providing information, and is not intended as a solicitation to invest in the shares of this company. The information and opinions contained within this report are based on data made publicly available by the Company, and comes from sources that we judge to be reliable. However, we cannot guarantee the accuracy or completeness of the data. This report is not a guarantee of the accuracy, completeness or validity of said information and or opinions, nor do we bear any responsibility for the same. All rights pertaining to this report belong to Investment Bridge Co., Ltd., which may change the contents thereof at any time without prior notice. All investment decisions are the responsibility of the individual and should be made only after proper consideration.
Copyright(C) 2016, Investment Bridge Co., Ltd. All Rights Reserved.